Here are our top 5 new features of Photoshop CC 2019
Changed 'Step Back' Shortcuts in Photoshop CC 2019
It used to be that command or control + Z was going one step back in your history. The same keyboard combination used to revert to the original state.
Now Adobe has changed all of this.
You can continue to go back in history stares with Command/Control + Z!
The new multiple-undo mode is enabled by default. From now on, these will be the shortcuts used to navigate history states:
Undo: Moves one step back in the undo chain. Use the shortcut keys: Control + Z (Win) / Command + Z (Mac).
Redo: Moves one step forward. Use the shortcut keys: Shift + Control + Z (Win) / Shift + Command + Z (Mac).
Toggle Last State works the same as in the legacy undo mode. Use the shortcut keys: Control + Alt + Z (Win) / Command + Option + Z (Mac).
To switch back to the legacy undo mode in Photoshop, do the following:
From the menu bar, choose Edit > Keyboards Shortcuts.
In the Keyboard Shortcuts And Menus dialog, select Use Legacy Undo Shortcuts and click OK.
Restart Photoshop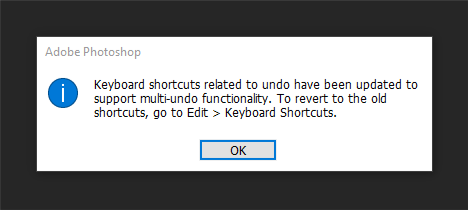 Proportional Transform By Default in Photoshop CC 2019
You probably won't have noticed but probably every single time you have scaled an object up or down you have been holding down the shift key while dragging a corner handle of your object. This allowed you to transform the object's size and keep its proportions.
After updating to the latest version of Photoshop CC this has changed too!
Proportional transform is now the default!
No longer do you need to hold down any keys to scale your object or image up and down.
Using the shift key now enables un-proportional transform. This newly added change will improve your overall image editing workflow and efficiency.
To revert to the legacy transform behavior, do the following:
Use Notepad (Windows) or a text editor on Mac OS to create a plain text file (.txt).
Type the text below in the text file:TransformProportionalScale 0
Save the file as "PSUserConfig.txt" to your Photoshop settings folder:

Windows: [Installation Drive]:Users[User Name]AppDataRoamingAdobeAdobe Photoshop CC 2019Adobe Photoshop CC 2019 Settings
macOS: //Users/[User Name]/Library/Preferences/Adobe Photoshop CC 2019 Settings/
If you are still using Photoshop CS6, then you really should be thinking about upgrading your subscription plan to get the latest version of Photoshop!
Auto Commit Feature of Photoshop CC 2019
Another thing you won't have to do in the future is to actively commit to a crop, transform, and place. Now you simply click outside of the object's boundaries and your changes are committed. No need to move your hand to the ENTER key or to go all the way up to manually commit your changes in the options bar.
This newly introduced feature is another time-saving change which will be very welcome by the editing community!
Lock Your Workspace now comes to Photoshop CC 2019
When you are working with a customized workspace (which you should), you are probably using some floating panels; some connected others separate but close in space.
How often have you accidentally dragged out a panel from a bar because you slightly missed the button or fly-out?
Finally, you can lock your workspace elements in place!!!
To access this option, choose Window > Workspace > Lock Workspace.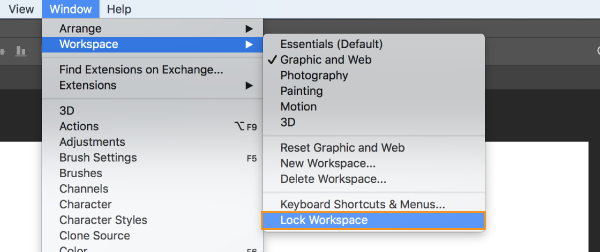 Live Blend Mode Preview Finally Introduced in Ps CC 2019
By far my most favorite change coming with the most recent update in Photoshop CC 2019 is the ability to see changes in blending modes in real-time!
Quite some time ago, Adobe introduced a live preview for fonts. Live-Preview was a well-received update by the graphic design community when it was introduced in other design apps among the Adobe ecosystem.
I am happy to say, this is a feature long-awaited by me, and even though it seems simple, it was very tedious in the past to commit to a blending mode, then open the fly-out menu again, commit to another one. Then you might want to compare two blending modes, go into the menu again, select your blending mode, commit, and so on. It was tedious.
Since Photoshop CC 2019 you now can see the effect of Blending modes onto your images by mouse-hover!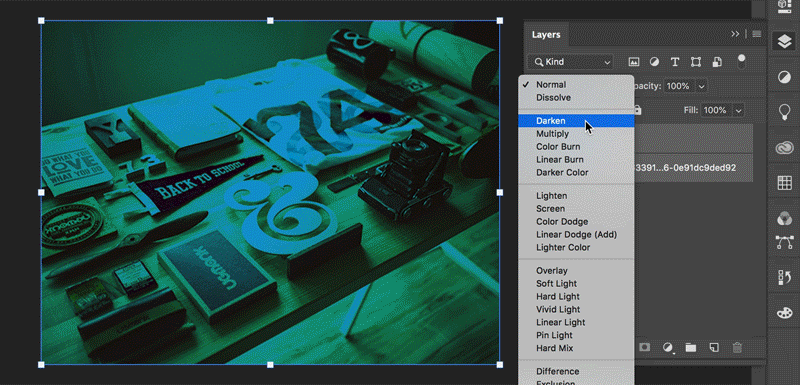 Adobe offers Photoshop CC 2019 as part of the Adobe Creative cloud. You can get the single app plan or the photographer's bundle at adobe.com. The creative cloud ecosystem also includes Lightroom and other apps like Indesign or Adobe Premiere Pro.
A full list of Photoshop CC 2919's new features can be found under Adobe CC 2019 Release Notes.